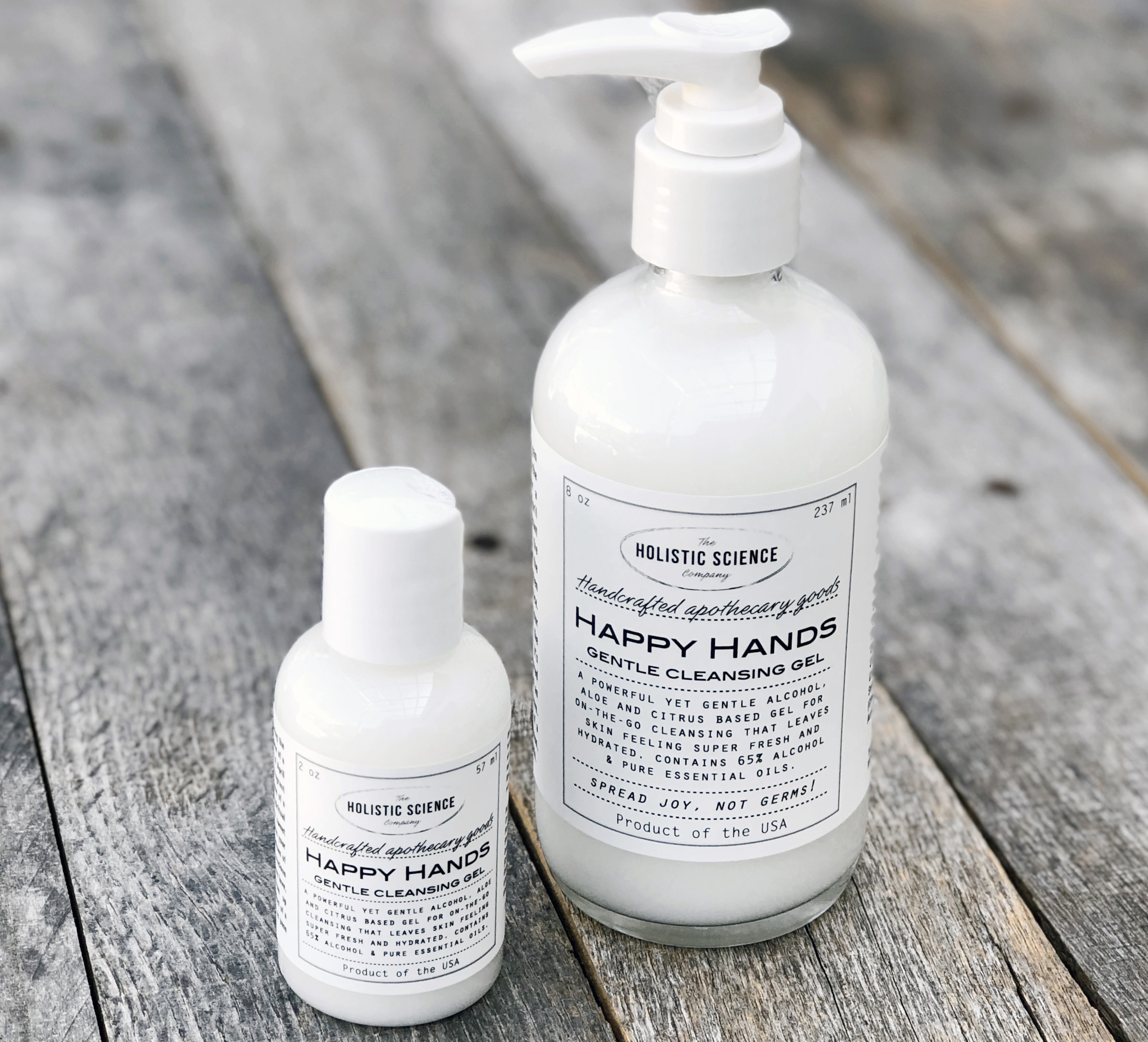 To Our Valued Customers:
THANK YOU for your continuous love and support during these challenging times! Because of YOU, our shop is still operating and we are still working. We've come to the harsh realization that there are some things that we cannot control. However, there is still one thing that we can control and that is...spreading joy and happiness whenever we can!
As a token of our appreciation, we are offering a FREE 2oz Happy Hands Cleansing Gel with every purchase of $50 or more OR an 8oz size for purchases of $300 or more while supplies last. Yes, it's NEW and it's wonderful! A powerful yet gentle alcohol, aloe and citrus based gel for on-the-go cleansing that leaves skin feeling super fresh and hydrated. Contains 65% alcohol, shea oil & pure essential oils of Lemongrass, Pink Grapefruit, Clementine, Sweet Orange, Litsea Cubeba, Lemon & Lime...a quick-dry formula that gives alcohol enough time to do its work without leaving any stickiness. Happiness is contagious, so spread it everywhere with Happy Hands!
This offer is valid for all purchases and no discount code is necessary for online orders. If you are not needing anything at the moment, you are more than welcome to purchase a gift card for later use so that you may take advantage of this offer. Gift cards do not expire!
For the time being:
To place your orders, please shop our online store or call our office at 619-365-9708. Your orders will be shipped via USPS or Fedex.
Curbside pickup is available. Please knock or give us a call upon arrival. If you need same day delivery, just let us know and we'll work something out. We are happy to help!
Just a reminder, we offer free ground shipping on all orders shipped within the continental USA.
Unfortunately, we do not have a specific date for when we will be back at The Little Italy Mercato. Although, we have complete certainty that life will go on and all business will resume as normal in the near future. Take this time to look after your loved ones, neighbors and communities and remember to:
SMILE....It happens in a flash but the memory of it lasts forever. It cannot be begged, borrowed or stolen, but it is of no earthly good to anyone until it is given away. So if in your hurry, you meet someone who is too weary to smile...leave one of yours, for no one needs a smile quite as much as he who has none to give. It takes only 17 muscles to smile and 43 muscles to frown. Conserve energy!
With love & gratitude,
All of us @ THSC